I am Stella K. I am a member of the Platinum club, age 50+.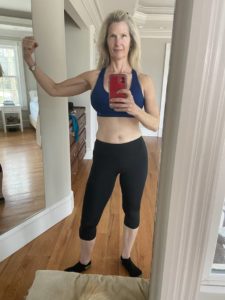 I am 5'10, and I am for this first time, 148 lbs. I am a busy wife, mother and professional with a stressful career.
As well as being a coaching client of Scott's,- I have been doing Scott's Busy Woman's Train at Home Program for several years — because it works!  This way I can exercise at home and on my own schedule.
And of course I am  following a simple and sustainable diet strategy design for me by Scott – no calories counting, no macro math, no apps.
Having struggled with emotional eating and binge eating, I started working with Scott and focused on emotional fitness and mental fitness.  After several years investing in what Scott calls the triangle of awareness, I am now emotionally, mentally and physically in the best shape  of my life!
At my heaviest I was 182 lbs. I was guilty of yo-yo dieting and occasionally would get down to 168 lbs where I would stay for a while.  I was active but with the frantic mindset and the dysfunctional emotional eating. My weight would go up and down, up and down.  Then with my binge eating I would go back up to 172 lbs. Several years ago I got all the way down to 164 lbs and was doing lots of cardio but my mindset was all messed up.  About this time was when I think I started working together with Scott in 2015 with the Empowered Woman program [Note: this is now included with Food Freedom].
It took a few years but I finally got my mind right and as Scott always tells us, my weight just followed. In addition, I really started doing Scott's Busy Woman's program and stopped with most of the cardio.  Lifting became my focus (although I still enjoy walking and cycling).
And at age 50 I am for the first time in my life in the 140's and I like the way I look!