Firstly! I want you to know you'll be hearing from me more regularly, with news, updates, conversation, articles and information. Please stay tuned, because 1) I want to share some of my best stuff, and 2) I also have some important announcements in the coming weeks that I think are very exciting.
I've written a lot about what it takes to be a successful "Big C" Coach. But lately, it seems to me I should also be talking to you about what makes a successful client.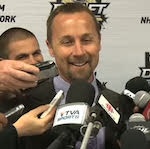 (A VERY successful client.)
There are far too many "here today gone tomorrow" clients out there looking for magic formulas, and they buy into a ton of hype and industry jargon. I want to talk to you about what makes a truly successful client.
And I want to tell you about one of my most successful clients ever: Trevor Timmins of the Montreal Canadians.
First I need to define what the term "success" really means.
Many people think of the word "success" in very narrow terms, like "fat loss" or winning a physique-contest. But there is more to real success.
I think of my client who overcame a 4-decades long severe eating disorder; that was so serious – she was in inpatient hospital care for months. She is now symptom-free.
I have had many clients overcome serious hardcore addiction issues (e.g. alcoholism) and they have made a great life for themselves, and put those dark years behind them.
I've had female clients overcome spousal abuse and start a new life for themselves.
There are so many definitions of "success" that extend well beyond what we think of in the physique-transformation, weight-loss industry.
Yes, of course I've coached hundreds of people to change their bodies and sustain those changes. I've coached clients to winning National Championships in bodybuilding, and I've helped clients get pro cards. At one time that was my bread and butter, but that doesn't always means "success" either.
At my age, I think real client success only begins with physique transformation. It never ends there.
Trevor Timmins:
One of My Most Successful Fitness Coaching Clients Ever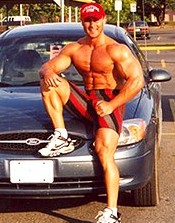 Meet Trevor Timmins.
As of this writing Trevor is now in his 23rd season in the NHL, and just this past summer Trevor was promoted to Vice President of Player Personnel and Director of Amateur Scouting.
In professional sports leagues there are no "do overs." Professional sports is all about proving your worth every day… or be out of a job. That's not to mention dealing with rabid fans second-guessing your every move.
Trevor began his successful career as an intern – that's right, an intern – with the (then) upstart Ottawa Senators, all while Trevor was getting his Master's Degree in Sport Administration. And he's worked his way up from there, all while travelling, dealing with the stresses of real life, and maintaining a ripped physique all the while.
Trevor travels more than 200 days per year, in and out of airports and hotels. And yet he always gets his workouts in, and he is ALWAYS ripped.
Just a few years ago Hockey News Magazine wrote, "Trevor Timmins has the best physique in the National Hockey League.
That's not usually something that is said about the management and office staff in sports organizations.
How I Met Trevor:
I first met Trevor when he was an undergraduate freshman and I was in grad school.
Trevor came up to me in a gym one day and politely called me "sir."
I'll never forget our first conversation.
He wanted to compete in bodybuilding and he wanted to know if I thought he was ready to compete, or if I could give him some advice. Well, his muscles were plenty developed, and he'd obviously been doing his work. I remember laughing and saying to him not only could he compete, but he could step on a stage that day if there was a contest in town. But Trevor didn't know much about the ins and outs of competing, so he became my client.
Here's the thing about Trevor in those early days that I want you to know. Trevor has a fantastic physique, but it's not the best structure for the stage.
When he first started competing there was a local fellow in town (also a client of mine), and he was the only guy who beat Trevor. He was just older than Trevor, with more experience, and a better stage-ready structure.
I remember Trevor coming to me and asking me what he needed to do to beat this guy. I was honest with Trevor. I told him, "Right now, you can't beat him. He's better than you, Trevor, with things that training just won't correct."
But I also told Trevor this:
"Trevor, here's the thing: You've got all the intangibles to be successful at anything in life. In five or six years, when you have gotten all you can out of competing, you will have moved on, better for the experience, while this other guy will still be competing, likely still at level one for the rest of his life."
Both of my predictions came true.
Trevor continued working. He became known in competition circles for being scary ripped and shredded. He went to the provincial level… and then he simply…
…moved on.
He had his undergraduate degree, and he continued to pursue his Master's Degree, not to mention his internship and career in the NHL.
I remember him calling me during that time to ask me some questions regarding a project he was doing. He didn't want to simply do well. He wanted to consider all the angles.
He wanted to learn from everything he was involved in.
That was Trevor. It's still him today.
When he was a kid, the Montreal Canadians were his team and his passion. And now he earns his living and designs his life by working for the team of his boyhood dreams.
Everything Trevor has accomplished is just an external reflection of what was always inside.
Above I mentioned that Trevor had all the right "intangibles." Those things it's hard to put your finger on.
It's the intangibles that make a "good" client great.
Ask yourself:
What is it that allows some people to succeed where most fail?
What separates those who do from those who don't?
What makes for insanely successful physique transformations compared to all those who are yo-yoing back-and-forth forever?
What is the difference between someone who accomplishes their physique goals quickly, then builds on them and sustains them, versus those who seem forever stalled?
If you want to be successful, this is what you need to figure out.
Meanwhile, every autumn Trevor stays with me when he is in the area, scouting.
I can always hear him in my dungeon training away. There's no audience, no mirrors, no one to impress, yet through the walls I can hear the grunts and groans and the odd loud scream of someone working hard at it… for no other reason than to work hard at it.
Impressive stuff.
In my next post, I want to explain the "intangibles" that make for true client success.
I want to talk about the keys that result in not just impressive physiques, but also very successful careers, better personal relationships, and more.