Learn Simple, Specific Dietary Principles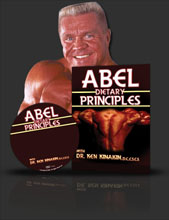 * all prices in CAD.
Checkout on a secure 256-bit SSL encrypted cart and payment page.
Scott and Dr. Ken have been colleagues for a long time – since Dr. Ken first attended one of Scott's gym seminars. Dr. Ken knows that the best way to get great information out of Scott is just to give him a category and let him talk. As the book, Get the Pump, states "Scott will forget more in one week then most cats will know in three lifetimes!"
In this audio production, Dr. Ken gets Scott onto various topics to do with training, training mistakes, training misconceptions, etc. and just lets him talk. If you really want to learn about what training is versus what you may think it is, or you want a deeper understanding on a real level of training concepts, you must hear what Scott has to say.
The secrets Scott reveals about training and the high level of information and science by which he comes at this, is truly fascinating. Scott's astounding level of knowledge and passion for training is impressive. With such an amazing amount of information at his fingertips and an intelligent point of view, it's no wonder he is considered the ultimate coach.
You can learn how certain "faulty thinking patterns" can keep you from making gains, and how traditionalism can be a trap for beginning and advanced trainees in this game. You will learn and hear new ways of thinking about your training, and how to prosper from these alternative views to transform your current training knowledge to a new, higher level.
If you are a trainer or coach, there are specific strategies in the way Scott thinks and applies his expertise that will help you to help your clients as well. You will learn how and why "quantification" and "numbers" are in fact limiting rather than adding to the training experience. Learn how to properly apply and interpret qualitative indicators to enhance the training experience and make real world gains.
Knowledge is power and this is your opportunity to avail yourself of the real knowledge of one of the industry's top experts. Learn how to properly think and gauge your training, and how NOT to fall into the traditional training pitfalls that trap so many trainees.
No matter what level of training you are at, you must hear Scott's ideas. His Innervation Training System has revolutionized traditional bodybuilding methods of training and produced almost 300 champions at various athletic contests.
Now his MET TRAINING SYSTEMS are poised to do the same. Just when you think you have heard and understood all Scott has to say, he excites and astounds by going further and deeper into training concepts that most trainees take for granted, but do not understand in real terms, therefore limiting their possible gains substantially. Available on CD or MP3, this audio production is a must for the thinking athlete who wants to comprehend and contemplate advanced training concepts and ideas.
Be prepared to let go of what you assume to be right, with your current level of training acumen, and learn how and what to think regarding training in order to catapult yourself to greater gains in your training program.
Being a long term colleague of Scott's, Dr. Ken Kinakin knows the best way to elicit cutting edge information from Scott is to just wind him up and let him go. In this audio prodution on diet and supplements, Dr. Ken gives Scott a category and lets him talk.
The result is some of the most fascinating and progressive diet knowledge you'll ever hear.
Once again, Scott shows how traditional assumptions regarding diet are incorrect. For some people, following such traditions could be even metabolically harmful.
Scott takes on established "givens" of modern diet practices and shows them to be false and/or incomplete.
Learn new ways to look at calories and new ways of looking at the weight scale.
Discover how to break the bonds of traditionalism in order to forge a new understanding and a greater knowledge of diet and diet principles. This is an empowering and thought-provoking treatise that will transform the way you think about diet, diet strategy, specific food stuffs, and — even more controversially — the way you think about supplements.
Scott has been involved in the Fitness/Bodybuilding Industry for more than three decades and has had access and been privy to behind the scenes secrets of diet information, and ad manipulation that consumers have whole-heartedly bought into. Learn how you may have been manipulated into a certain pattern of thinking.
Once again, Scott challenges the traditional thought patterns and re-orients you to proper thinking regarding what is considered "current diet knowledge."
Scott takes you beyond that to the real deal of what diet knowledge is, and what it isn't.
Scott's ideas may be controversial, but they are thought provoking and make good sense.
One expert said, "Scott Abel may indeed be the industry's first living, breathing PhD in bodybuilding."
Available in easily downloadable MP3 format, this production will give you an enhanced, new and amazing way to look at diet, and diet related issues.
Once you have been exposed to Scott's ideas, you will be astounded at how many people fall in to the same thinking traps that Scott brings to the forefront.
If you are constantly confused by diet information and contradictions, you owe it to yourself to listen to what Scott has to say.
You'll get an ultimate understanding of the issues involved and develop a better, more informed process for thinking about these important nutrition concepts.
CONTROVERSIAL? YES.
THOUGHT PROVOKING? YES.
CUTTING EDGE – YES.
Scott makes no apologies for his sometimes controversial positions. Scott's position is an exciting one that will get you thinking about what you think you know and currently understand about this confusing topic.
Learn the elegance of simplicity.
* all prices in CAD.
Checkout on a secure 256-bit SSL encrypted cart and payment page.