Today's post is simply a testimonial from an amazing client, Jessica Whiteley.

I hope it's instructive about what's possible and about what progress looks and feels like! 

-Scott
Hi Scott,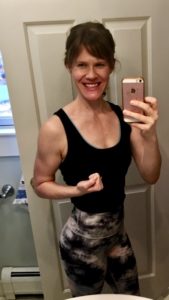 Becoming a coaching client of Scott's is definitely one of the best things I've ever done for myself and my overall well-being.
I'm 34, have four year old twins, and am a reading specialist in an elementary school. To say I'm busy is an understatement!
Before having my kids  I was often looking for the next best thing related to diet and exercise and dabbled in some pretty ridiculous diets, cleanses, and 12 week "transformation" workout programs from Beachbody that got me nowhere. They consisted of tons of cardio and jumping up and down over and over again. I hated them!
Whenever I tried a new diet there was often a cleanse at the beginning which left me with awful headaches and a horrible mood. Fortunately I never stuck with these diets for long.
After having my twins, I more or less let myself go. I didn't exercise for a few years, and pancakes and take-out were staples in my diet.  One weekend while my Dad was visiting he thought it would be a good idea for me to start getting out of the house more and getting some exercise in. He signed my up for the local Y even though I really begged him not to because I didn't think I'd use it and thought it would be a complete waste of money. Oh how I was wrong!
I had first heard about Scott on a podcast/interview with Matt Stone and remembered liking how realistic he sounded. I reached out and purchased a one-time workout and diet plan and just started it on my own.
I was shocked at how much food I was supposed to eat!
I was expecting it to much more challenging and depriving. And the workouts were totally do-able! They didn't leave me unable to move the next day and I actually looked forward to going to the gym. I loved the results I saw and loved how it just all made me feel good!
I signed up for coaching in September of 2018 because I felt like I was on a good roll and wanted to take it to the next level. I have now been on the cycle diet for over a year and it honestly still blows my mind. Every Sunday I eat ANYTHING I want and AS MUCH as I want. French toast, brownie sundaes, bread, and pasta are all my favorites and I generally get them all in on my cheat days. I also love that if I have something special coming up (family party, dinner with friends, etc) I can just switch my refeed day and enjoy whatever is going on. I used to be a little worried that it would make me bloated or cause me to lose my progress, but honestly the opposite has happened. I feel better than ever and love that I don't ever need to fall for a fad diet again. I even took ten days off my meal plan during the holidays and could hardly tell.
Before I signed up for coaching, I thought that it would involve a lot of numbers in regard to scale weight, body measurements, rest times, and macros. I am so thankful that it doesn't because I would easily get bogged down with that and become obsessed. And at this point in my life I don't have time for, and I have no interest for that. I have twins to look after and a job and an extended family. And I want to set a good example for my kids as well – I used to weigh myself pretty much daily, but now I don't even own a scale and prefer it that way.
I also thought that there would be other gimmicky things like protein shakes and supplements. Nope!  Another thing that I find really helpful are the weekly check-ins. I often don't have all that much to say, but it really helps me to stay on track and it reminds me of how far I've come and motivates me to keep on this path. Being around a lot of young women in mom circles and at work, I often hear about people starting diets together, cutting out whole food groups for a month, not eating sugar, etc. I always feel so relieved that I am a coaching client of Scott's because in the past, I would have fallen for these "challenges." With Scott's programs and meals plans I look and feel better than ever and it's SIMPLE! There is no food that's off limits, I don't feel like I'm starving, and my workouts don't make me feel like I'm going to die. I really love everything about it.
Overall things are good and happy with all the change I see in my body from where we started…just ordered a new bikini for my vacation down south…never was a bikini person in my whole life until now. Funny that it's after having twins and having reached almost 200 lbs on the scale.
Thank you Scott!