Before I dive into the summer that changed my life forever, I need to recap a few incidentals that led to 1989.
After the Great Lakes contest of 1987, the "Powers That Be" the bodybuilding world decided that only specific contests would qualify a competitor for the next tier up, on the way to a national championship—and it was decided The Great Lakes Open contest was not a qualifier. This meant that I had to compete in the provincial championships later that summer. So I competed, big, but certainly not at my best, and I placed second.
It was good enough. I just needed to be top 3 to qualify for the next level, which would be the Eastern Canadian Regionals the following year. (The Eastern Canadian Regionals really boiled down to Ontario versus Quebec.)
For 1988 Eastern Nationals, none of my stage pictures could be digitalized, alas, but here are two pictures of me in the hotel room the night before.
I was "ripped and ready," but as a side note: I came to find out later that "my guy" – that is, the guy who provided me my steroid stack – had been taking out half the liquids in the injectables and replacing it with vegetable oil, in order to increase profits for himself. (He even admitted it.) So my steroid stack for hat contest wasn't nearly at the doses I'd assumed I was taking!
But I consider both of these contests merely incidental to what would become my career in bodybuilding and fitness. These two contests merely served as 'prologue' for 1989, the year that changed everything.
Earlier in 1988 I read in a magazine that there was this one-of-a-kind event called "Muscle Camp" that was going to be taking place in L.A. in the summer of 1989.
I learned that they were looking for "camp counsellors," and they wanted the best of the best to work there. Basically, fans would fly in from all over the world for one week and these camp counsellors would train them, teach them about nutrition, and help them along. Also, the organizers planned to have the cream of the crop pros and top minds in bodybuilding come in and give lectures, workout and hang out and whatever.
For an iron head in the bodybuilding game back then, there was nothing else like this. This was big time stuff.
Unannounced to anyone (which… was not like me at all at the time) I applied for a position, and then proceeded to forget all about it. But to my surprise, I got a call back and a phone interview and then another conference call interview.
There were applicants from 64 countries, and I ended up as the only Canadian. I felt like I had won the lottery: I was going to Venice Beach and L.A for the summer, and I was being paid to be there. This was a dream. The fact that I was being paid made it feel real. I wasn't just a tourist who'd travelled down to LA. I'd made it.
I learned later that I hadn't gotten the position because of my physique. It was more about my reputations. At the same time as I'd been winning contests, I'd been a graduate student at a prestigious university, where I'd won several scholarship. This, they told me, was what they were looking for.
I'll add a note here that, as always, the peanut gallery amongst the local bodybuilders did the same old thing. I heard things like, "Wait 'til Abel gets down there. Guys like him are a dime a dozen. They're going to eat him alive."
I knew that the Muscle Camp organizers had been very thorough in their selection process, so I trusted that they'd seen something in me and focused on that. By the time I arrived, I was practically vibrating with excitement and anticipation.
I was ready to work.
Did they "eat me alive"?
No.
I felt like the red carpet was rolled out for me. As it turns out, once you get to a certain level, people don't spend all their time badmouthing each other, unlike the peanut gallery back home. It was a level of appreciation and acknowledgement that was completely foreign to me.
In the early days and weeks in L.A., I liked to spend my days off at Muscle Beach and the Venice Beach Boardwalk, just absorbing and embracing the local scene.
Tourists would take pictures of me, and a few times, some of the buskers asked if I could stand near them for a while, just to attract more people—they even offered to pay me for it.
I also got other strange and lucrative offers.
One lady approached me and asked if I was free that coming weekend. There was a Mattel Toy Convention coming to town and they wanted to dress me up like He-Man and pay me $1,000 cash for one night. In 1989, $1,000 cash for one night was a lot of money. It was actually a lot of fun, and I enjoyed the people I met there.
The experience taught me a great lesson: public exposure was everything, and it snowballed.
Back then most bodybuilders never went anywhere or did anything beyond the gym. They didn't want to miss meal times or get tired or whatever. But I found that placing myself in the public eye and by simply being visible, I made lots of interesting connections and found a bunch of interesting opportunities.
I'd use this knowledge for the rest of my career. Just being willing to do what most other top bodybuilders weren't willing to do would always end up paying off in some way or another.
Finding a Gym that was "My Kinda Place"
That was out in the public. I'll admit that in terms of training, it took me a bit of time to find a place where I felt, Yes, this my kinda place.
Before I arrived in L.A., I dreamed of working out at Gold's Gym.
Once I got there, not so much.
I started working out at Gold's Gym every morning at 5:30 am, but it quickly became obvious it wasn't for me. Yes, it had more training equipment than you could imagine, but I hated the atmosphere. It was more like a party: music blaring full blast, too many people there just watching, and some not-so-great gym etiquette.
I remember the last straw was one morning I was training legs. I was doing barbell lunges out of a squat rack with two plates per side: 225 lbs., a lot of weight on your back for lunges. Some moron walked right in front of me in the middle of my set. I could have been hurt with that much weigh on one leg. That was it for me for training at Gold's Gym.
I went over to World Gym and it immediately – well, almost immediately – felt like home.
World Gym had a reputation.
Its owner, Joe Gold, had an even bigger reputation, mostly hating everybody. (If you don't know, Joe Gold had been the original founder of Gold's Gym, but now owned World Gym.)
When I arrived at World Gym, Eddie Guiliani still worked the front desk. Even this was a thrill for me, because I'd seen him in Pumping Iron. He was still every bit as open and gregarious as he'd seemed.
Joe Gold, however, wasn't in great health at the time. Whenever he descended the stairs from his office, he'd have to hold tight onto the railings. I remember the first time I saw him coming down those stairs, and when he did, he came right for me.
"You're the Canadian kid I've heard people about," he said.
It was barely a question, but I nodded.
He said, "Listen, I don't care about any of that. There's no music here. There's no party here. You drop my weights and you're outta here. If you're looking for that, then go down the street." At this last part, he nodded his head in the direction of Gold's.
I'm not sure what he expected me to say. Honestly, I was so doe-eyed at the time. I was just thrilled that a bodybuilding legend went out of his way to talk to me, even if it had been just to lecture me.
As soon as I started training there, I loved it. The place had an outdoor section on a deck with dumbbells and benches and all the other equipment. I could workout outside in the California sun, without it having to be right on Muscle Beach,
About a week later, Joe Gold approached me again. To my astonishment, this time he shook my hand. He said he was wrong about me (I can only imagine what, exactly, he'd been wrong about) and he said I could train for free at his gym any time. He had Eddie give me a bunch of World Gym clothing for free. He said I was the kind of serious trainee he wanted at his gym, and he ended up by saying I had one of the best backs he'd ever seen.
As you can imagine, from then on, when I wasn't training at Muscle Camp, I was at World Gym.
It was just home.
Several of the top guys were there as well: Bob Paris, Lou Ferrigno, and often actors and other celebrities as well. (Lou Ferrigno gave me a ride back to Muscle Camp one day—but a few years later when we did a seminar together, he didn't remember it.)
It was funny to me. Celebrities who were well-known seemed to train at World Gym. Celebrities who just wanted to be 'seen on the scene' seemed to go to Gold's Gym.
The (Muscle) Camp That Launched A Thousand Dozens of  Careers
Muscle Camp was everything. It forged and launched several careers—including my own.
Dr. Tom Deters ran the whole show, and he was also publishing editor of Muscle & Fitness and Flex magazines. He was as smart as they come, and he surrounded himself with smart people.
Contest-prep guru Chris Aceto, for example, really became a name starting at Muscle Camp. My roommate was Tracy Olrich – who's now Dr. Tracy Olrich, Ph.D., at Central Michigan University; he spoke to U.S. Congress on Steroid and Performance Enhancing Drugs in Sport and Society.
All the top Olympia competitors and top amateurs came to Muscle Camp from one week to the next. Top minds like Dr. Fred Hatfield were there as well.
Here is what stood out to me: many of the Olympia competitors who came to Muscle Camp just plain did not seem as though they were on schedule to compete. I was surprised. I wasn't even competing, and I certainly wasn't an Olympia competitor, but – and this isn't an exaggeration – I was easily in comparable (if not better) condition as many of them. Given the circumstances, I remembered being disappointed.
The one exception, though, was the reigning champion: Lee Haney. He was far and away a cut above the rest. You didn't need to wait for him to step on stage to see it.
Likewise, in terms of the lectures, there were one or two people there who were a cut above the rest. For me it was Dr. Fred Hatfield and Bill Pearl.
With some of the others, I wasn't learning anything new. They were referencing the same research I'd read up on as well, and they weren't doing any remarkable work of synthesis or anything.
But not with Dr. Fred Hatfield or Bill Pearl. Their lectures were priceless.
With Dr. Hatfield, there was a perfect blend of in-the-trenches experience and a solid grasp of the latest research as well as (of course) the underlying principles and mechanics.
With Bill Pearl, there was just no comparison in terms of hard-earned wisdom and knowledge, and I learned first-hand when, by sheer luck, we started training together.
During the course of Muscle Camp, the gym at Loyola Marymount University — where the bulk of the actual "camp" took place — was stocked with all the newest exercise equipment from the big manufacturers (so they could demo and sell it. I remember thinking the gym had that "new car smell" because all the equipment was fresh and unused. Even the flooring they'd installed of the gym floor was fresh.
Since I was an early bird, and since I liked to work out alone early in the morning, I managed to get my own set of keys to the gym, so that I could open it every morning. This felt like being given keys to the city or something. The great overhead flood lights would take about 15 minutes to come on each morning, and my warm ups took place in the dark.
Early on, Bill Pearl started showing up there as well.
At first we just did our own thing, but as these things go, we got to chatting.
He complimented my training. He advised me on my training when he thought there was something I could do to improve.
We got into a routine.
A few days after this, Bill had a scheduled lecture to give. In the lecture itself, he announced to everyone that this "young Canadian lad" he'd met was going to change the landscape of fitness and bodybuilding industry. It was just off-hand, but it was high praise and touched me deeply.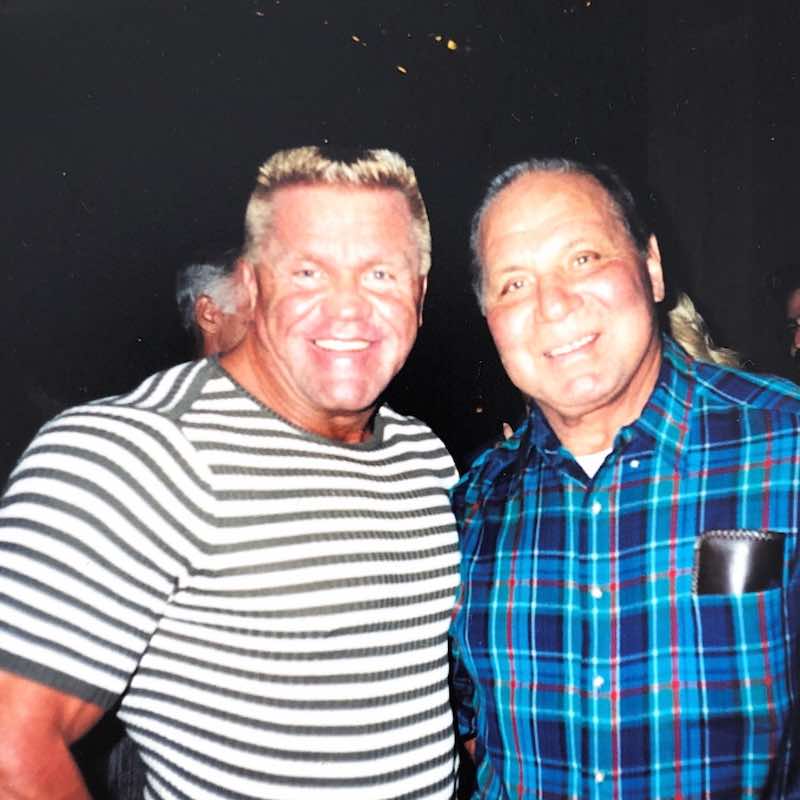 It's Bill's comments and mentorship that I cherish the most, but there were other important moments for me as well, before Muscle Camp ended.
For instance, I ate breakfast with the reigning Mr. Olympia Lee Haney. Then I was right alongside him hangin-n-bangin in the Muscle Camp Gym. He trained surprisingly light. I wrote about this in my book, Hardgainer Solution, where I compared it almost to a dance.
I also trained right alongside the second most popular bodybuilder of those days, Gary Strydom. We even had a conversation about social work, as he said he was considering a career in social work himself down the road.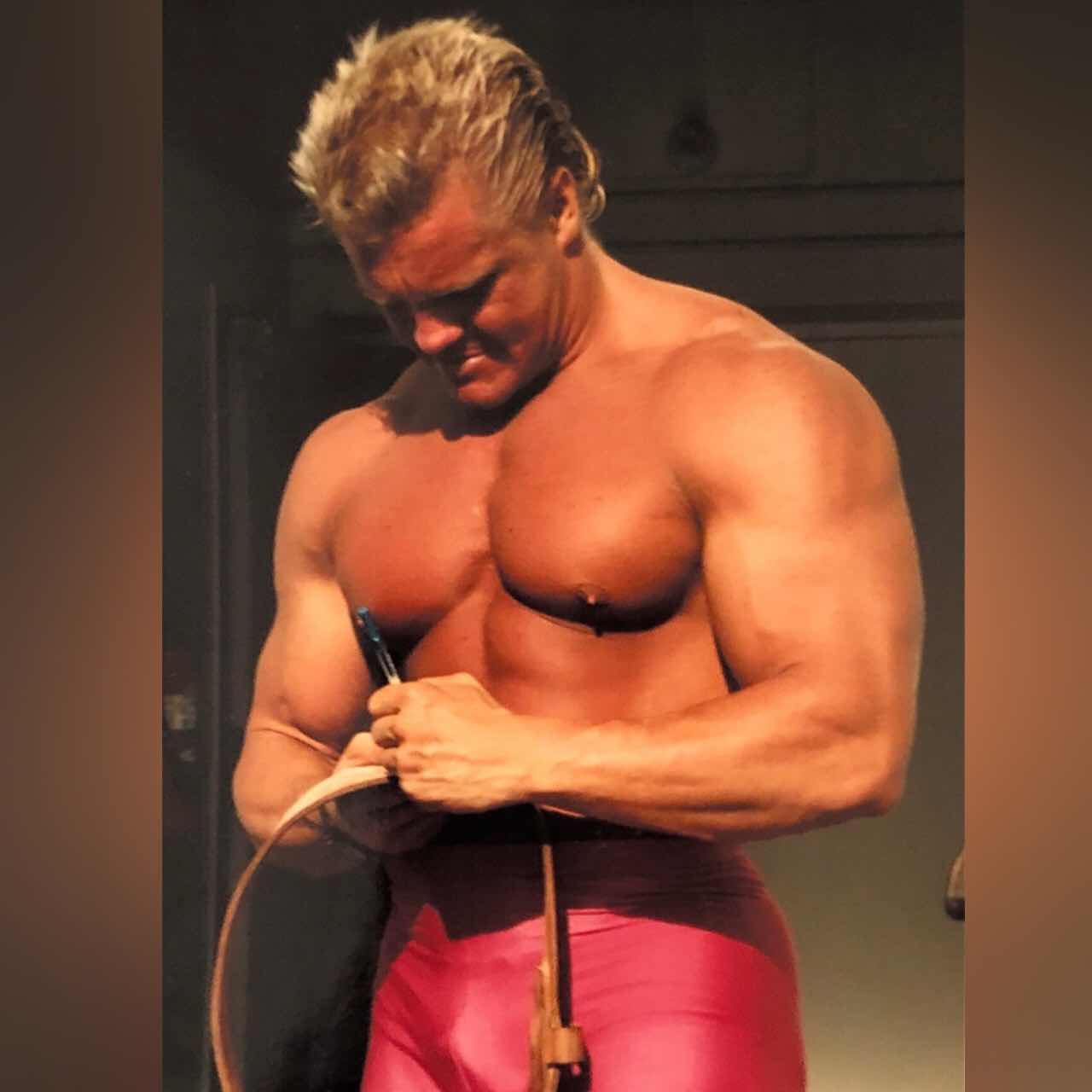 Returning Home and a Change of Heart
You can imagine how the experience changed my outlook on a few things.
My plan going into Muscle Camp was to get in shape for Muscle Camp, then return home to Canada and compete in Nationals and maybe earn a bodybuilding pro card.
But, suddenly, competing just… didn't appeal to me anymore. It held no fire for me. Muscle Camp extinguished that flame.
Muscle Camp gave me a new vision.
At the Camp, despite being surrounded by big, big names, I'd become a "go to" guy for advice on training and diet. So I figured, why not do that back home?
Once I returned home, my experienced at the camp had given me a status boost and a huge leverage point, and I intended to take advantage of it.
I focused on working one-on-one with bodybuilding clients, and it wasn't long before I'd become a name in the Canadian bodybuilding scene – not as a competitor, but as the "go to" guy if you yourself wanted to go pro or win a championship.
Most of my clients these days are not bodybuilders (but yes, I do still take them on—if their head's on straight).
In other words, I'd discovered my passion was coaching, or "Coaching" with a capital-C.
But the 90s were coming, and navigating some of the upcoming changes in the industry – drugs, mass monsters, the creation of "bikini" and "figure" – were not all positive.
More on that to come.