Get a
proven

workout program designed specifically for women, that will tone, sculpt and accentuate your feminine figure
…and take back your metabolism!
(Forget endless cardio and starvation diets forever.)
Scott has totally turned my training upside down with his MET programs.
I can't deny that I was slightly nervous at first doing no cardio, but to my surprise, I was actually able to gain some muscle and not get fat. My physique progress has thrilled me, but what has excited me more are my outstanding improvements in my athletic ability.
I knew I had reached a plateau and needed help getting to the next level in terms of both size and definition. […]After only three months on Scott's program, the difference in my body was amazing, particularly so because I did absolutely NO CARDIO training during that time period. Scott designed a diet and workout schedule to fit my busy lifestyle that produced immediate results. I've never been leaner, and both my strength and energy levels have increased. I've never felt more confident or been more motivated to keep on pushing harder to achieve my goals.
I contacted Scott, sent him some photos of myself and asked, "Do you think I'm too old to compete?" His reply was, "It doesn't matter how old you are!" That's when I decided to go for it. I started on a workout plan and worked diligently to achieve a personal goal, which was to get into the best shape of my life and to compete, all naturally, in my first Figure competition.
Who Should Buy The Ultimate Figure Program?
This program is designed for women looking to accentuate the right parts of your figure, so that you can develop their physique while maintaining a totally feminine shape, and
without
looking overly muscular.
This means there is special emphasis on:
keeping the waist tight
accentuating the shoulders
maintaining feminine curves at the hips and butt
If you're tired of training "traditionally," and you know deep down that training like bodybuilders do probably isn't the best way for you, then this program's for you.
This program is also designed to boost your metabolism and make you feel like an athlete
If you're tired of training like a bodybuilder for full session, and then stepping on the elliptical for an hour or more, and then feeling tired and drained for the rest of the day, you need a program that will give you more energy, not less.
After a training session you should be tired, absolutely. But you should not feel lethargic, drained, or "empty."
You should feel like an athlete.
This program is designed to give you this feeling. You should feel alive at the end of a session.
You can sculpt a figure that gives you the "look" of a figure athlete without the severe diet regimentation of actual competition.
Frequently Asked Questions About the Ultimate Figure Program
Is this only for figure competitors?
No!
It is not only for figure competitors; it is designed for anyone who wants to sculpt a lean yet feminine physique.
Anyone can do this program. And almost everyone who tries it will have to "ease into it." There are instructions for how to do this in the videos and in your written program.
In the videos you'll also see examples of "progressions" and "digressions" to make the exercises harder or easier respectively. It has been specifically designed so that you can make the program fit your own, individual needs.
What if I don't have access to a gym?
That's the good news about Scott's Training in the Dungeon series!
In the intro video, Scott gives you a walk through of what he's put in his own training "dungeon." If you have a spare room in your house, or in your basement, you can create your own training room for less than the cost of many yearly gym memberships.
(You will need a set of adjustable dumbbells, a bench, some resitance cable tubing, stability balls, and so on.)
I think I have metabolic damage. Will this program cure it?
If you're serious about taking back control of your body and your metabolism, then yes, this program absolutely can help you.
It's not magic, though: Serious cases of metabolic damage can sometimes take years to cure, and sometimes the damage is not fully reversible.
This program is designed both to tone, sculpt and shape your figure, but also to challenge your body physically. As you watch the videos you'll see the "oxygen debt" and sweat that Tracy experiences, and as you start the program, you'll experience it for yourself.
This is true athleticism, and what figure competition was originally supposed to be about. Athletes do not feel a constant sense of lethargy.They don't feel "tired all the time." They don't do hours and hours of low intensity cardio, eating only chicken and fibrous veggies. Instead, they feed their body, and they push it to new limits.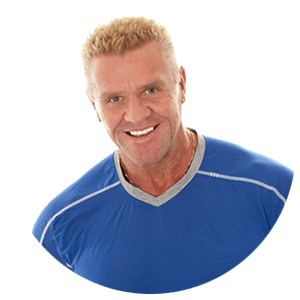 Register now and get full access to the Ultimate Figure Program!