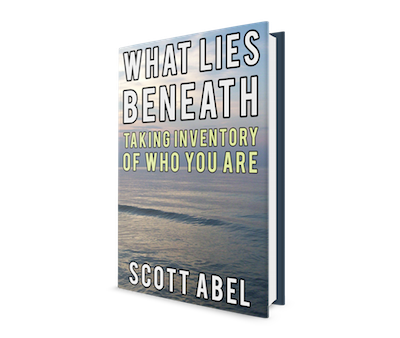 What Lies Beneath: Taking Inventory of Who You Are
If you've ever invested in self-help books you've probably had the experience that topics are laid out for you well-enough, and they give you lots to think about – but they don't go all the way to real "self"-help. You are left trying to put together a puzzle and make it apply to your life. And the end, the self-help book wasn't much help at all.
Scott's "Self-Investigation Questionnaire" takes a different approach and puts the "self" back into self-help.
Scott went back into his archives of notes and advice and common email problems he has received over the last 3 decades. He looked at his responses and formulated a self-investigation questionnaire from all these hundreds of pages of gathered notes.
Scott's "Self-Investigation Questionnaire" combines Scott's graduate education in Social Work, Social Theory and Psychology with his four decades of intimate interaction with clients as their Coach and professional confidant.
Scott has condensed the most common problems of personal angst that people have reported to him over the years and he has tied together these issues with self-penetrating and self-probing questions that help you address your real issues – as you address your real self.
Scott's "Self-Investigation Questionnaire" is composed of 100 questions that will reveal to you who you really are vs. who you may think you are. The questionnaire will reveal to you your strengths and your weaknesses as well as your blind spots of self-awareness.
Scott's "Self-Investigation Questionnaire" will reveal to you that "who" you are is not nearly as important in your life as "how" you are – and "how" you are living inside yourself.
When you are done writing out the answers to these 100 questions, you will end up with a narrative, in your own hand writing, of who you are and how and why you are this way. And you will also have a direction, from your own hand, as to what you can do about it.
The Self-help nature of this questionnaire is something that will be personal and intimate to you and only you.
You may ask why you should invest in a project that is only 13 pages long? But the answer is that it's only 13 pages long in posing the questions and in setting the context for your answers. The actual answers you write out for yourself – to probing questions you pose to yourself. And these are questions you have never considered before.
If you currently struggle with yourself over any issue, or you have any issues, or you feel any level of personal discontentment with your life – Scott's Self-Investigation Questionnaire will be like your own road-map for finding out what you need to find out in order to move yourself forward.
In terms of real and true "self-help", Scott has hit the nail on the head with this project that puts the emphasis on YOU yourself – and by answering all these 100 questions as they are laid out for you – you will have the tools in place to change what you want to change and move in the direction you want to go.
You can't change what you don't acknowledge. And Scott's "Self-Investigation Questionnaire" engages you to acknowledge yourself and the perspectives you have for your living your life. In so doing you will learn what things about you yourself are holding you back and keeping you from moving forward or living in full contentment with who you are – and the life you are living.
There are no circumstances that need to change outside you before you live the life of contentment. The only place you've ever really needed to go is authentically inside your own self.
If you are a seeker, or you are just not feeling right about yourself or about your life – then you need to invest in this 'Self-Investigation Questionnaire'.
Scott recommends that this project be used in conjunction with his book "Go Deeper Live Better" or with his book "Your Truth is Calling: Connecting the Dots to Self-Awareness" (insert links here as well). However, "The Self-Investigation Questionnaire" is also a stand lone product as well.

Only $15.95 CAD + applicable taxes
* Coaching clients receive a discount. If you're a coaching client of Scott's, please email orders [at] scottabel.com for info.
** Please note that there are no refunds available on products or services.