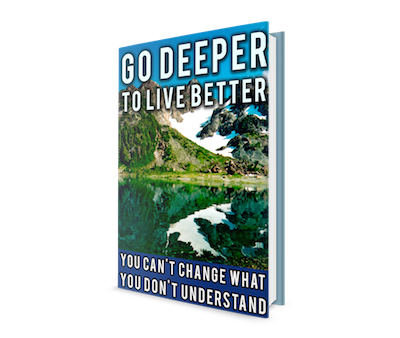 Go Deeper to Live Better
You Can't Change What You Don't Understand
Go Deeper Live Better is an A-Z book that covers all realms of what Scott labels "The Triangle of Awareness" – which, when properly understood, shows that real contentment exists when your emotional realm, your mental realm and your behavior/physical realm exist in equal balance, with each sides of the awareness triangle touching each other.
The book takes over where Scott's spiritual text "Your Truth is Calling: Connecting the Dots to Self-Awareness" leaves off. However, this book is less of a text-book approach and more of a straight-talk approach to "going deeper" within yourself to live a better life. Scott combines narration with story-telling and instruction to give you ample ways and means to reconsider how you connect with yourself and the world around you.
Scott's adaptations of the "Tao" are alive and well all through this book. You will learn why a lifetime of trying to resist what you don't want in your life just brings on more of it.
Scott has taken a decade's worth of self-improvement articles he has written, Blogs, advice-columns and straight-up talk – and he has re-edited years of work so it all fits into a compilation that you can utilize to improve how you live your life – and how you experience your world.
Scott has added key bolded-statements and advises where and when and what to write down in a notebook for yourself. By the time you have read through this whole project and taken notes as advised, you will end up with your own self-help, self-empowerment collection that you can use at any time to "go deeper and live better."
And you can also share these notes with others who may benefit from what you have learned and recorded.
With 63 chapters, some long and some short – Scott's collection gives you plenty to think about as you use and employ the tools to "Go deeper and Live Better."
Go Deeper and Live Better is over 300 pages in length. It is compiled in a way where you could start at any chapter you like and pick it up at any point. It is the kind of book you can leave for several days, or even weeks, and come back to – and continue – and still be learning and retaining valuable life-lessons for enhancing how you filter and experience your world.
If you like Scott's Facebook posts and other messages, then you will love to dive into this compilation of a decade of his work – rewritten as a self-help guide to your own empowerment.
Go Deeper Live Better is a book you can use for contemplation, for self-education, or for teaching and reaching out to others.
Go Deeper Live Better helps you to think about what you think about, helps you to understand how to better process emotion for enhancement instead of detraction, and how to blend all three realms of your triangle of awareness so that you own your experience of the world – and your experience of the world no longer owns you.
Go Deeper Live Better is one of those easy to read books that helps you tap into your own strengths and consider and reconsider what really matters in your day to day living.
Anyone who invests and uses this book, will come away better for it – as a student, as a teacher, and as a person. The notes you make and collect will become your own personal empowerment guide, reminders, and epithets to live by. In other words, you will be able to continue on from this book, day after day and year after year, by taking notes where advised. This really is a "self-help" product, by any definition of the term.
You will be glad you invested in this one of a kind compilation from Scott Abel.
This is a great book!
I can apply the philosophy to situations, small or large — to anything that I am dealing with, or have dealt with in my life.
The book has helped me look at things and myself in a different way and shown me my way for what I need to do in my life, and how to move forward with it.
There are many chapters — I jump to the ones that speak to me, and I seem to find some sort of solution, or thoughts to ponder with whatever I'm looking for or doing.
I highly recommend it!
So far, it is showing me how to have a sense of peace in any situation in life, and most of all, with myself. Thanks for writing such a wonderful book Scott!!!!!
Carol S