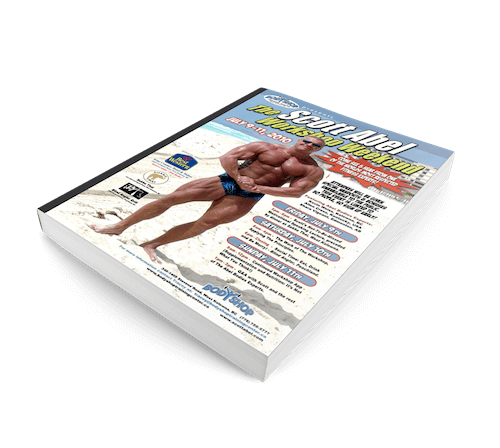 Training, Diet and Supplements
Workshop Workbook
Training, Diet and Supplements Workshop Workbook
This book will change how you think about training, diet, and supplements.
Finally a workbook, in workbook form, that addresses training, dieting, and supplements all in one reference book. This is the one workbook you can't afford not to have on hand in your collection.
Information, quotes, and concepts taken from other industries to change your thinking about fitness.
After a brief explanation of the concepts involved in Scott's methodology, there are more than 20 pages of workouts and how to apply them. (This value alone is worth hundreds of dollars given what Scott charges for one time programs.)
Scott examines the realities of both the diet and the supplement industry in a way you have not witnessed before.
What if the way you've been taught to look at nutrition and diet is the problem, and not the solution?
What if the "science" you've been taught to buy into is faulty?
Once again Scott uses real science and real research to dispel taken for granted "knowledge" of nutrition and diet. And he does it in simple, short bullet points, making it so easy for you to refer to anytime.
Learn the three most important elements of  nutrition.
Understand the role you play in your own exploitation by the diet and supplement industry.
Follow Scott's test of your nutritional knowledge by choosing various food options and see what it actually reveals.
Read Scott's fascinating account of what your "relationship" with food actually is or should be. Be ready to face some stark realities you may not have considered before, that will awaken you to consider your diet in a whole new light.
Nutrition and Training: Elegance in Simplicity
Follow Scott's easy to use "common sense principles" for eating and wellness.
This is a simple to use, easy reference guide. This section alone is essential if you are a professional in the fitness game who also gives diet advice to clients.
Follow the reference literature Scott uses and has used to become one of the most knowledgeable and practical experts in the game. All references are included, and nothing is held back.
Scott's previous insider position in the supplement world gives him a most unique perspective of what is true and what is false.
Yet Scott still uses substantial research and textbooks to back up his claims.
Learn the biological truth of "nutrient homeostasis" and what it means and why it's important.
Investigate the truth about the "carbohydrate deficit" and what it means and why it's important.
This workbook has everything for training, diet, and supplement awareness. Whether you are a trainee, or a trainer, this will be one of the most valuable reference books you could possess for your own progress, or for helping others understand the deeper issues involved in this industry of smoke and mirrors.
Secure Credit Card Payment




Checkout on a secure 256-bit SSL encrypted cart and payment page.