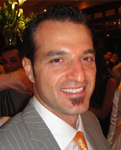 When writing this testimonial, I was both honoured and excited to share how Scott's coaching has affected my life. My hope is that anyone who might read this can get a clear understanding of what is possible with experienced guidance when it comes to health and wellness.
Health and wellness is a very broad term. Until very recently, I had a physically oriented view of my health – how much I weighed, how I looked in the mirror – the usual attributes of a physique. I have been athletic throughout my life, and in the recent years my fitness became less of a priority as life's responsibilities piled up, and deteriorated quite rapidly. I could see I the road I was going down didn't look too appealing, so I decided it was time to do something about it.
Wanting to get 'back in shape', I did some research on different diets, programs and routines on the Internet, and the results were conflicting at best. Having been fortunate enough to learn of Scott through the gym we both attended some time ago, I knew about Scott's decades of experience and success stories in the fitness industry, both as a competitor and a coach. It is extremely rare to find anybody with that type of experience in any endeavour, and I consider myself lucky that Scott took me on as a client.
The physical result of that experience is undeniable. In the first 8 months under Scott's guidance, I lost 30 pounds, 3 pant sizes, and I am in the best shape of my life. However, it is what I have gained which I am most grateful for.
Early on in the Coaching relationship I discovered that Scott's teachings go well beyond the physiological aspects of health and wellness, placing equal importance on the mental and spiritual aspects as well. I would venture to guess that you would have a difficult time finding any other so called professional in the field discussing self-awareness, or the psychological factors which contribute to body image or diet issues, to name a few.
With Scott's help, I now have a much clearer view of what health and wellness really means, and it is a holistic view which includes the body, the mind, and the soul. The lessons I have learned from his Coaching and his writing have not only served to transform the way I look, but also the way I look at life. The values that Scott teaches transcend the gym to improve all other areas of life, from work to relationships, for real wellness and happiness.
We have all been given an incredible gift, the gift of our presence here and now. This gift is beyond value, yet most of us take care of our cars or pets better than we do ourselves. If you truly want to learn how to take care of your whole self, experience is the best teacher, and the teacher with the best experience, in my opinion, is Scott Abel.