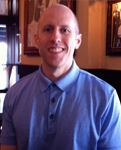 For years I had been pin balling from one exercise routine to the next. One diet and one supplement "fad" to the next. Literally pissing away hundreds and thousands of dollars on the latest and greatest supplements to get me lean, "jacked", or "ripped". Ultimately, all of these things led to temporary change and not the long lasting change that I was seeking. I knew what was missing in regards to my training was not only the diet and exercise element, but the mental and emotional development as well. It's one thing to achieve that well balanced physique, but for many that can come at the expense of a well balanced Life.
It wasn't until I came across Scott Abel's website and the Abel Approach of Coaching that I realized what I had been searching for not only in physique enhancement, but in Life coaching as well. It wasn't until he helped change my focus to improving my internal view, that the external view started coming into being.
Scott is not a "trainer", but a Coach in every sense of the word. He will tell it to you straight and challenge you not only in the physical realm, but in the emotional and mental space as well. He is an every man or woman's Coach. I am humbly grateful for the foundation and lessons that he has provided me through his teachings.
Jarrod, Washington, USA