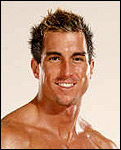 Hey, what's up everyone! Thanks for taking the time to check me out. My name is Andy Sinclair I was born and raised in Barrie, Ontario and still live and train there now.
I've always had a passion for as long as I can remember for training and nutrition and how it affects the human body. While other people my age were out partying I would always be at the gym or at home eating! And made some respectful gains doing so, but I knew if I really wanted to do something with this I would need someone to coach me through everything. I was going to the University of Guelph at the time and met a guy named Aaron Giberson; I noticed the great gains and results he was getting and also his "unique" style of training in the gym. That's when he told me about Scott Abel. I've been with Scott for almost 2 years now and the gains and improvements I've made in that time have been incredible. Scott takes the guess work out of everything and separates all the facts from fiction that are out in the bodybuilding and fitness world, that is a truly valuable asset. I like to refer him as "Doc" Abel; he really knows everything and should have a PHD in bodybuilding!
Not only is Scott incredibly knowledgeable, he also looks out for your best interests. When I came to him I told my interest in fitness modeling and wanted that look, well here I am almost 2 years later and I've signed a contract with Nxcare nutrition which includes some print ads in major bodybuilding and fitness magazines and the possibility of appearing in T.V commercials as well and have also been busy building my portfolio. I couldn't have gotten this far without Scott's help and I know if I keep listening to him and following everything he says I'm going to get where I want to be….the sky is the limit! Thank you Scott for everything and I know I will be a lifetime Abel client, my only regret is I didn't hear of him sooner.
Update:
Andy's been with Scott 10 years! Check out Andy's blog post on it.