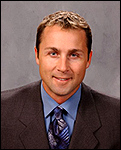 As a scout and a member of management in a professional sports team I am often on the road for two weeks at a time criss crossing the country and the US, and scouting tournaments in Europe as well. For 8 months of the year I pretty much work 10-14 hours per day, and live and eat in hotels. Because my fitness is important to me I don't have time to waste so I count on Scott to give me the best most efficient time saving programs and diets, and supplement advice. His knowledge is unequalled by anyone in the game of fitness and he helps me do the best I can with such a hectic schedule.
Scott adds:
Trevor's commitment to his training, physique and diet is enviable given his crazy crazy schedule. Trevor is a lesson to all that you can still have a demanding career and take care of your body.
Trevor Timmins enters his third season as the Canadiens' Director of Player Personnel. He is primarily responsible for overseeing and directing the Canadiens' amateur scouting system including the annual NHL Entry Draft.
Timmins has been in the NHL for the past 12 seasons. He worked with the Ottawa Senators since they joined the NHL in 1992, through the 2001-02 season. From 1999 to 2002, he was the team's Director of Hockey Operations. He also held the positions of Scouting Coordinator, Strength and Conditioning Coach and Director of Team Services with the Senators.
Timmins is a graduate of Queen's University in Physical Education. He has also completed a Masters in Business Administration (Queen's) and a Masters in Sports Administration at the University of Ottawa. He was born in Almonte on January 5, 1968. Trevor and his spouse, Lisa, are the parents of Jake.