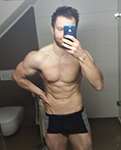 I started reading Scotts books and articles years ago and became a huge fan of him. With his knowledge and expertise in the fitness and diet industry I was far beyond impressed and I know he is the guy to take me into a better life and a better physique. This is why I have hired him as my coach.
Scott Abel is a walking/talking fitness, health and diet encyclopedia, and its truly amazing how much I have learned the last time.
The results I already achieved with my current training program and the cycle diet has blown me away. From week to week I can see changes in my physique while having one insanely huge cheat day on Saturday. A week ago I was at 189 lbs. After my cheat Day I was at 201.3 lbs the next day and I ate about 15,000 calories on the refeed day. The funny thing is that now – a week later I am at 187.6 lbs and that's even lower than the week before. And I'm obviously leaner. Not to mention that my workouts after the reefed day were insane.
Scott has completely changed my life and it was the best decision I have ever made to hired him as my coach.
Tobias Pauer