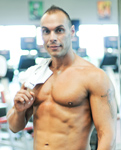 Where do I begin with regards to my experience with one of the leading minds in the industry of fitness, sports performance, cosmetic enhancement, nutrition excellence and wellness? I first encountered Scott's name in various publications and knew that this man was different than anyone else; in that he would relay cutting edge information in a very user friendly manner and would usually provide all kinds of science, as well as his own "common sense" approach to his methodologies. He makes it hard for anyone to argue with his ideas and applications. He is the only expert who puts his money where his mouth is; especially when it comes to proper individual attention.
Most experts these days just preach pseudoscience and talk in circles but with Scott, all of his work is applicable in real terms and results happen.
Just before hiring Scott I went through a personal situation that caused me to "let go" of everything and drain every single ounce of my energy. My son was in the hospital and both my wife and I were in and out of there like it was our new home. As a strength and conditioning coach myself, I was getting all my clientele in shape but had lost focus on me. Once my son got well and healthy, I knew it was time for me to hire Scott to reach my own balance in life, especially after having numerous talks with him.
That was the best decision of my life. Scott even invested his own precious time to mentor me and coach me into keeping my balance and focus in all areas of my life. He has helped me in every possible way reach and surpass my goals and I will continue to work with this man for a long time coming. After one year of working with him, I've learned a ton and can only imagine what the future holds for me. In addition, I would like to thank Scott, for investing his precious time in me even though he is a very busy man and who went over and above for me in ways he will never truly understand. Here's a quote from Socrates that I relate to, from working with the most influential Coach of our time: and I will strive to emulate his coaching ability throughout my career:
"Employ your time in improving yourself by other men's writings, so that you shall gain easily what others have labored hard for"
Scott is definitely miles ahead of everyone in the game and I'm glad I invested my hard earned dollars in the leading mind of our time in this industry. I believe in proper coaching and practice what I preach through hiring Scott and his 25+ years of expertise.
Best Regards,
Theo Papatheofanous