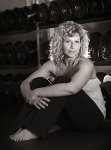 I have been a client of Scotts since 2004 and his mentoring student since 2006. I am now proud to call Scott a friend. People like Scott don't happen everyday. I can't even begin to sum up in a small paragraph what Scott has done for me, but I will try.
He has given me my life back. Scott gave me the tools to break free from the prison of body image and food issues and to mentally and physically recover from metabolic damage. During this time, his coaching taught me to find my true self, and tap into the potential that I have as human being AND as a coach. Everyday his lessons provide insight into pursuing true happiness in life. I am so grateful that I no longer seek happiness by living a life driven by vanity.
I attribute my success in life, love and career to Scott because had I not turned the corner away from bodybuilding and chasing the perfect physique I would still be on vicious merry-go-round, going nowhere and only getting farther away from real happiness.
Beyond his coaching my metabolic damage/food/body image issues, Scott has provided guidance and mentoring into becoming a REAL coach. Scott's methods and principles on coaching and program design have propelled my career beyond what I could ever imagine. And I look forward to it growing even more, thanks to his ongoing mentoring, insight, honesty and friendship.