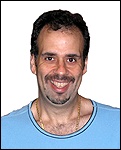 BEFORE  – Weight 293 lbs, 48″ Waist
AFTER  – Weight 196 lbs, 34″ Waist
I went through all the diet fads; Atkins, Bernstein, Phen Phen and so on, and found that they are all short lived. In fact, they actually made me gain more weight once off them!
After attending your seminar, I was very impressed with your complete knowledge and scientific evidence of total body fitness. In just 5 short months on your program, I can say I am in the best shape of my life, I have become very disciplined in when & what I eat.
Your leadership, guidance and motivation are a rare quality, I am truly grateful for your support and friendship.
It took a medical scare to put me in the right direction, hopefully enough people will be encouraged by my results and join the Abel Bodies Family!
Scott adds:
It is with real excitment and admiration, and respect that I write this post. Dont even know where to start. First a fact. Did you all know that 99% of all really overweight people that diet, end up failing. For very over weight people taking weight off and keeping it off, is an emotional battle with many social and emotional repercussions.
Now I have written on this site before about personal redemption and self-respect etc. And we all applauded the achievments and comebacks of some of our athletes on this site. And that's all great when in the end there is glory and triumph, and the word "winner" attached to someone's name. But there are countless other categories of people out there who overcome insurmountable odds, in real world situations with no fanfare, no glory, no applause. They manage to accomplish what few in their predicament ever could, yet, no one is there to pat them on the back. Their achievments are monumental, and their only reward is personal, in their own hearts, but it can change them completely. This is the story of my client Santo. When I first heard his name, someone at one of my seminars had to tell me that this guy Santo wanted to talk to me, after hearing me lecture on diet myths and mistakes, and realizing he had made many of them. Yet, he was too shy to approach me himself. Well fast forward a bit in time, and see for yourself. Here is a man who has lost 101 lbs and counting. What a collosal acheivement. This is the biggest deal on these boards to date. Mostly because it goes, unnoticed by everyone till now, and also because people underestimate just how difficult such an achievment it is.
But what is more miraculous is the change in Santo's whole being. Intially he presented a shy and sheepish front, almost appearing intimidated by his surroundings. Now Santo has an aura about him you can't label. He gives off an aura of happiness, has a smile a mile wide and moves with confidence previously absent from his demeanor. And well he should. What he has accomplished is beyond amazing. We are inspired, annie, myself, and anyone who has seen his journey. I myself am so happy to have been a part of it. But more than that I am inspired.
Some people dream of worthy accomlishments, while others stay awake and acheive them……I couldnt be more proud than if one of my clients just won the Olympia……..To say he is a new man misses the point. He is a new man physically and mentally. I just want to publicly congratulate him. I'm sure he will keep us posted with his progress, and im honored he shared his story and his achievment with us.