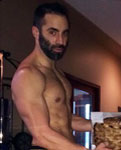 Coach Abel's value is his ability to cut through much of the noise, misinformation, and expertise that is packaged as new and cutting edge which is just an outright waste of time. He simplifies the approach to get to your goal. As a former collegiate athlete I've been involved in athletics and training my whole life. I loved training and challenging myself and it became part of my life. I hired him initially after my athletic career was well over to take the guesswork out of transforming my physique and training from a power sport focused approach which was all I knew to a physique and performance enhancement approach to get lean and further developed.
Not only did Coach Abel take the guesswork out of everything which was important being a busy professional with a family but I learned an incredible amount about how to train more efficiently and how to use various training and diet strategies to create a certain adaptation that I desired. I've been engaged and following Coach Abel since 2008 and employed his Innervation, Hybrid, and MET protocols. I most recently have been utilizing his Cycle Diet very successfully and look forward to continue working with him. At this point everything is so ingrained its like 2nd nature – this was important to me in order to achieve my goals without having it feel like a 2nd job or obsession. I train a total of about 5-6 hours per week, never touch a piece of cardio equipment like a treadmill and most recently have cut down from a solid 205 to a very lean 178 lbs utilizing Coach Abel's Hybrid protocols.
Once at this weight I began implementing calorie spike days with the Cycle Diet where I consume over 10,000 calories in a day and my body responds with more energy throughout the week and shedding even more fat with each week. Its not easy but its simple. I highly recommend Coach Abel.
Rocco C