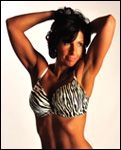 To me, fitness has never been a fad. It is more than a commitment, more than just a passion. Being fit is part of who I am, and always will be.
Being fit means I realize my goal of revealing who I am and what I look like, every day. Being fit means being active, eating, drinking, playing and being me, everyday. A fit body is a fit mind is a fit soul (and a happy one too).
Being fit is the life I choose to live, and the activities in my life reflect that. I work, and I travel, I multisport, and I teach; my fitness is always a part of these. When fitness is instinctively and intuitively granted a berth in your life, the only burden you bear is to fulfill your life even more, your only priority to do what you have not done before.
To me fitness is not a goal, it is not a destination, and it is not a finish line or a competition. The point of my journey, the point of my being fit, is not just for me "to arrive" at any particular state. I have Mr. Scott Abel as my coach; he has opened my eyes and many doors to me. With his guidance and program development I continue to strike items from my "bucket list" and will continue to do so. I have learned a lot from Scott over the past three years, and God willing I will continue to learn and grow for many years to come. Anything is possible, you just have to believe.