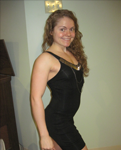 Hi! My name is Mindi Anderson, a 25-year-old novelist. Being a former fitness director for a retirement village, I thought I understood exactly how to maximize my own diet and fitness program. I had competed in Figure a couple times, and I was obsessed with my body. Obsessed is an understatement.
When I Hired Scott:
After a couple competitions in May 2010, I was working with the same "fitness guru" who wrote up my competition fitness diet and exercise regime. Sure, I was ripped, even three months after the shows, but I was diagnosed with borderline fibromyalgia.
My job was too much for me to handle. Stress was mounting from nutritional deficiencies. My period had disappeared for several months, and my coach ignored any biofeedback I provided. After providing her my poor lab results, she was shocked. She said, "Nobody I have ever coached has had these problems."
Whoops! I was in trouble if I continued down her prescribed path. I knew that she was incapable of coaching me back to a healthy body and positive post-competition mindset.
Why I Hired Scott:
I was desperately searching for some answers to my conundrums with metabolic derangement. I found Scott's fitness blog, and I read every archived post. It was obvious. He was the coach for whom I was searching.
I decided to get a trial assessment with him regarding my genetic capabilities for figure competitions. His assessment shocked me…his common-sense, no B.S. approach was refreshing. He gave me some initial brilliant advice, obviously culminated from years of experience. I hired him less than a month later.
Mindset and Muscle:
Looking competition-ready and being healthy are often assumed to be synonymous. Not so. On the outside, I looked like the perfectly bronzed figure goddess, but on the inside, I knew the truth. I was damaging my body and depriving myself of health, at the expense of body image issues and my marriage.
Through working with Scott, I have noticed a radical shift from the fitness industry dogma towards balance in all areas of my life. I have morphed from a sickly, overtrained fitness "expert" into achieving vitality and mental stability.
Scott's coaching process is sometimes subtle, but usually direct. He pinpoints mindset shifts and addresses the cause. He is a student of his clients. He cares about both the client's present and future health.
Diet Programs vs. Life Coach:
Anyone can pull a diet program off the internet and sell themselves as a "guru." Very few are genuine experts. I have fallen prey to a couple "gurus," who were most interested in selling me another program or a product.
If you are looking for a 12-week-competition program, go elsewhere. They are a dime a dozen. On the contrary, if you want to achieve health and satisfaction through diligent coaching, Scott Abel is your man. He expects dedication. His coaching is not for everyone, but it's a long-term relationship worth investing in.
Closing Thoughts:
Coach Scott Abel has aided in my life transformation. Never have I been so satisfied with my eating plan, my lifestyle, and my training program. They meld together seamlessly. Instead of obsessing about the weight scale or how shredded I look, it's all about being in tune with my biofeedback.
Fitness was my unhealthy obsession. Though still a vital component, being fit is a side effect of my balanced living. Thanks, Coach!