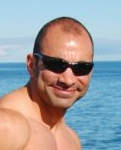 CONTEST HISTORY:
1995 NABC Alaska – 1st place LW & 1st place Mixed Pairs
2008 NPC Alaska State Show – 1st place LW, 1st place Masters & Overall
2008 NPC Emerald Cup, WA – 2nd place LW & 2nd place Mixed Pairs
I had been training for 10 years and began working with Scott 18 months ago. In that time my physique has transformed. His training programs are challenging and rewarding. I always feel energized during and after my training sessions. It's a different approach to the training I had previously engaged in. No more second-guessing and pinballing from one training program to another. Now I have an expert laying out the appropriate training for my needs state at the time.
Prior to hiring I had been using a large array of nutritional supplements and immediately stopped using them under the direction of Scott. I have learnt the value of eating real food and its positive affects on mind and body.
Recently I competed in a regional bodybuilding contest. I achieved victory in my class and was in tremendous shape. More importantly I enjoyed the contest preparation, in which Scott had me eating foods that I enjoyed as part of an eating plan that was tailored to me. I thoroughly enjoyed the training as I prepared as an athlete would. Whenever my confidence or motivation wavered, or self-doubts occasionally arose, Scott had the right guidance at the right time to immediately get me back on track and inspired. It made the potentially stressful process of contest preparation relatively easy.
After the contest I have been able to maintain excellent shape and conditioning and made a smooth transition back into training and eating and living with no negative repercussions on metabolism and mental state.
All my close friends know of Scott now and have also obtained many of Scott's products. I highly recommend hiring Scott as a coach, as he will take you to a new level in your training, as well as other areas of your life. Thank you Scott for your guidance so far.