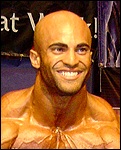 Every show I've been to I've seen an Abel athlete ripped up and placing in shows.
CONTEST HISTORY:
Mr. Windsor 1993
Mr. Ontario 2005
Heavy Weight National Champion 07, IFBB PRO CARD 07
Hello everyone! Some of you might recognize me, if not my name is Lou Joseph from Windsor, Ontario, Canada. I did my first show at the age of 18 and placed 3rd in Junior at the Windsor cup. With the drive to come back better I competed the next year and won not only Junior but light-heavy and overall title. Afterwards I took 4 years off to focus on college which I graduated from Computer Science. Bodybuilding wasn't on my mind at the time.
After a friend of mine Fouad Abiad saw my Windsor Cup victory on video, he decided to do the same. In doing so, I was also motivated to compete again. During my training to get back into bodybuilding, I started focusing just on what the scale said for progress and focused on lifting heavier in the gym, even if that meant training with sloppy form. This was a bad idea for me because I gained way too much fat and put too much stress on the lower back from the heavy lifting. I ended up injuring my lower back before I could even start competing in a level one show.
I went through with the show. After I went to emergency where they told me, if I don't get surgery to remove the bulged disk that has damaged my sciatic nerve, that I will have bladder problems. I was a bit too young to wear diapers and the pain in my leg was such a pain I never experienced in my life. As I was being wheeled out for surgery, so many thoughts went through my head like "Why me? I'm too young for this." I did my best not to break down emotionally in front of my mom who was very concerned for me.
After the surgery, I had no pain in the right glute and leg but I couldn't bend over and I couldn't walk right. It was a walk where I would just be dragging my right leg against the ground. I looked more like Frankenstein monster. Doctors sat there and lectured me on bodybuilding and that I should give it up and take up some other hobby that is safe for me. Pretty much the message is that my quality of life has changed and now; you are as mobile as a 60 year old man. That really hurt my spirit knowing that my goal was to go up the ranks in bodybuilding but before I could start I was dropped down like this.
Now back to reality….. I was supposed to take 3-6 months off and rest but work was threatening to drop my promotion if I didn't come to work ASAP. So one week after the surgery I was back to my computer tech job. I was walking the hallways in agony and thoughts of feel self-pity and despair filled my head.
After 3 month I was back in the gym doing very light work and just being in there brought my spirits up again. There has been times were I strained myself and had to take some more time off. It felt like I wouldn't be the same ever again.
The years went by and I started to feel better through chiropractors, massage therapy and my own therapy with stretching I did at the gym. I started doing movement again that I wasn't able to do before and that made me very happy. Throughout these years I did compete, barely getting through preps and got to qualify for the Canadian Nationals in 2004.
I felt this was my chance to bring in my best showing because the back was feeling a bit better and I added some size. I went out to get help from trainers and found a few that said they were going to bring me in to look amazing. I put trust in unseen faces that just got rep though online characters. People were buzzing about me and my potential. I got into my first magazine, Muscular Development. Now it was just a matter of bringing it to the show. As the weeks went by I became more nervous because my physique wasn't looking on target. I was actually losing muscle, fat was staying on, and I felt like crap in the gym. Everything that you don't want to happen to you getting ready for a show happened. Flat and fat is what was happening but I still put trust in my prep advisor because that's what you do when you get assistance… you have to listen to the trainer/coach you hire.
To make a long story short… I made a trip out to Edmonton, was put on stage, and battled it out for 14th place in the light-heavy. There were 15 competitors in that class. It just broke my heart to hear a few voices still cheering for me like my girlfriend. She still supported me when I was onstage and I wanted to just walk off. If that wasn't a blow to someone's ego, I don't know what would be. I went back to the hotel and started binging out on food to ease the pain of a 20 week prep gone down the toilet and the feeling of letting myself and loved ones down.
I came home thinking maybe this hobby isn't for me and I should be doing something else with my time and money. As much as people said I had potential and all I had to do is be conditioned and I would start winning, I wouldn't believe them and also despised their comments. I didn't believe in myself anymore.
Then one day I just woke up with a thought to give it a try again. This was no way to go out. If I was going to go out of this hobby/sport I was going to go out being my best shape ever. I had to because giving up wasn't in my character. I then looked back at times where I failed completely and then have risen up to the challenge to only surprise myself. There were times I have been criticized by teachers only to have graduated from high-school and college in honors. Times like when I was competing as a junior in bodybuilding where I place 3rd in bad condition to placing 1st and overall the very next year. The back surgery which I am still recovering to this day…. I made it through that. So I have no excuse this time to rise again.
Now the drive was higher that ever. The questions I asked my mind were all positive questions leading to my eventual goal of being the best I could possibly be on a bodybuilding stage. A first question was "What are the things I need to be my best?" I needed the best trainer; someone with real life results that speak for themselves. Every show I've been to I've seen an Abel athlete ripped up and placing in shows. Mostly placing 1st. So I contacted him.
It was funny at first; I just emailed him stating "Hi, I would like to be trained by you." Scott responded you're pretty short on words huh. As we worked together for 7 months, I could feel and see my body changing. This guy was the real deal for me. I didn't have to think of a single thing because he was doing all the thinking for me and I was just executing instructions like a computer program. I also worked with a sport therapist who magnified the motivation and thoughts in my mind. Everything was going as well as it could have ever gone. People in the gym, my friends, girlfriend and family members have seen changes in my body and in my mind. I believe in myself 100 percent even when others still had their doubt. Weeks out from the show, I had the feeling like I already won the battle and my goal was achieved. I was in the best shape of my life thanks to the coaching and guidance of Scott Abel.
Backstage at the Ontario Championships, one thought pulsated in my mind; "I didn't come all this way to let anyone show me up today. I worked too hard for this. I've came so far to this day to let it slip up."
Onstage every pose I felt was executed with all my effort. I was conscience about every muscle in my body and tense them with all I had, even though I felt like passing out a couple times. At prejudging we were doing the abs and thigh pose and I flexed my leg down to show the striations and everyone gasped. I didn't think I was going to get that response but now that I did I gave the leg another squeeze down with a most muscular and the crowd was going nuts chanting "Lou! Lou! Lou!" It was music to my ears and now realize; "Yes, I'm on now and time to just let it flow."
I went on to win the heavy weight class and then the overall. Now I've giving my loved ones something proud to cheer about and fulfill that empty spot in my soul that cried for importance and purpose. I'm not saying that winning a bodybuilding show is the be all and end all but that achieving something your heart desires…. Achieving a goal in life is something of importance to anyone and everyone from all walks in life.
I'd like to thank Scott Abel for his coaching for this show and will be looking forward to working with him towards the 2006 Canadian Nationals.