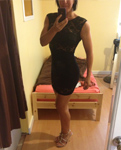 I have had the honor of being coached by Scott since March of 2012. In a year and a half I have come such a long way mentally and physically.
After competing for decades, I was retired and a bit of a mess. I was not "met damaged", but I was struggling with my own demons and eating issues, and Scott helped me overcome these. I am balanced, HAPPY and healthy now thanks to Scott and his coaching methods.
I have a different outlook on stage lean and REAL LIFE lean now – and am so happy with how I look and more importantly HOW I FEEL!!! AMAZING!!
Being a coach myself I have also learned the different between a big C and a little C — and thankfully I can put many of these tools into practice with my own clients now.
My check ins weekly with scott are always so positive now. I have a new relationship with food, and with myself. Feeling so good!!! I am so thankful to Scott for all he has done and continues to do for me!
You are truly one in a million Scott!!!! Xoxoxo