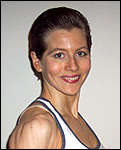 After training on my own for a number of years with somewhat marginal results, I knew I had reached a plateau and needed help getting to the next level in terms of both size and definition. I began working with Scott after attending his seminar series on diet and workout programs because I could see he clearly knew his stuff and his no-nonsense attitude meant he wouldn't sugar coat the truth or allow me to slack off at any point. I wasn't looking for anyone to hold my hand; I wanted someone to give me the straight goods on what I needed to do in order to obtain the physique I wanted.
After only three months on Scott's program, the difference in my body was amazing, particularly so because I did absolutely NO CARDIO training during that time period. Scott designed a diet and workout schedule to fit my busy lifestyle that produced immediate results. I've never been leaner, and both my strength and energy levels have increased. I've never felt more confident or been more motivated to keep on pushing harder to achieve my goals.
Scott's challenge is to help me put as much muscle mass as possible on my naturally small frame… naturally. I'm not a competitor, but I'd like to look like one.
The photos below are four months into Scott's program. I look forward to posting some comparison photos a year from now that are reflective of the extraordinary results I know I can achieve under Scott's expert guidance.
Scott adds:
I wanted to add Lisa to the client photo section for many reasons. Mainly Lisa represents what can be achieved with "proper" coaching. Lisa gave me her goals and the right program for her was a tough one. A long commute to work leaves her little time to waste in the gym, so the right program was imperative. It was a good challenge for me to prove myself. The reason I have Lisa posing is to show what is possible when hard work, dedication, and programming/coaching are combined.
Lisa has NEVER competed and I don't think she has even seen a show. I had her pose to show you how ripped she is. More ripped than most my female competitors, and NO — I mean ZERO — cardio!!!
Lisa is committed and organized to a T. Her weekly feedback is always spot on and detailed. 12 weeks folks. Look at the cuts. And this is no contest diet! This is Lisa's everyday walking around look now. Most women would kill for that. Too bad like most guys they spend all their money on the "wrong stuff" rather than expert help.
Great job Lisa!!!