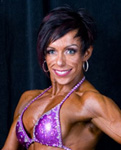 CONTEST HISTORY:
1995 NABC Alaska – 1st place LW & 1st place Mixed Pairs
2008 NPC Alaska State Show – 1st place LW, 1st place Masters & Overall
2008 NPC Emerald Cup, WA – 2nd place LW & 2nd place Mixed Pairs
I am a 42 year old Mother of 3 son's ages 21, 19 & 16. I am also a Grandmother of two girls, ages 6 mos & 2 years.
I was born and raised in the Interior of Alaska. My heritage is half Mexican & half Norweigan. I have been working in the field of Dentistry for 20 years. I have had a passion for bodybuilding since I was 18 years old and saw pictures of Lisa Lyon, Gladys Portuges & Rachel McLish…..
I am now finally realizing my dreams with the help of Scott Abel. I have learned more about how the mental aspects of training & nutrition, are equally as important as the proper training, individualized on the clients need. A few of the most important lessons I learned from Scott are to "enjoy the process" and "GROW UP, quit attaching emotion to food- emotional maturity is critical to succeed"!!!