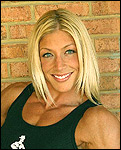 I took a few attempts at writing this bio and each time, I struggled with it. I didn't really feel sure of who I was to even write about. Life really put me in transition over this past year and at some point, a little perspective became necessary, or in my case, a little coaching.
Looking back now after my most recent athletic triumph, placing 2nd at the 2006 Figure Ontario Championships (short class), I can honestly say that life with a coach such as Scott is all about perspective. I joined Scott's team almost a year ago while finishing my Master's in Physical Therapy, after my second figure competition. I didn't place so well and my competitive nature got the best of me – I beat myself up over it. So I hired Scott with the idea that I would be THE best at the Ontarios and beat all of the girls who once beat me. It was over the next few months that Scott TRIED to teach me that a champion means more than coming first, or winning, or being better than your opponent. I had to figure out what competing meant for me and why I wanted to do it. That wasn't so easy for either of us, I'm sure. Let me say that Scott is a VERY PATIENT man. My perspective then was to be PERFECT. However, what I learned was that perfectionism always led me to feel like a failure – I was never happy with myself. I looked fantastic but always felt I could look better, so, I became a miserable person to be around. I learned that my perspective had to change. Scott preached about BEING YOUR OWN CHAMPION and these words became very powerful to me as training and dieting became more challenging. I wanted to be THE best. Now, a few months later, what I realize is that being YOUR best is what should matter more and competing, for me, became a means for learning more about myself.
After deciding that I do not want to compete anymore, my perspective has changed again. It was another struggle to live the life after competition. My whole focus this last year was the competition and all of a sudden, I felt lost. Scott, again, was very patient in helping me get back into life. I now train and eat to be healthy and fit, and I LOVE IT. He has helped me realize that I like to train because it makes me feel good and it can be fun, a perspective I had once lost. After graduating this past year, I am very excited to say that I have accepted a job in Richmond, Virginia, where I will be moving with the love of my life, Chris Fusco (I know…too mushy. Oh well!). Although I will not be preparing for competition, Scott continues to be my COACH OF LIVING, and I will take with me his guidance to always be my own champion. I am not perfect, and I really don't like that word anymore – my perspective now is to be happy and enjoy the life that makes me feel good! Life really does change – it can make you feel defeated, frustrated, depressed, angry, and very lost at times, but these are all perspectives. Scott once said, "Life will always happen, and happiness is not something you can look for. You have to be flexible and appreciate the good in each day."
Thanks for reading,
Lindsay
P.S. Chris, thanks for being so patient, and encouraging to me over this past year. You inspire me everyday to just be me!!!