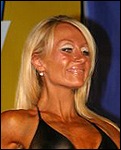 "The future belongs to those who believe in the beauty of their dreams" – Eleanor Roosevelt
Thanks for checking me out! My goal has always been to be the best I can possibly be and have never feared the work that was required in order to get there. We reap what we sow, which inspires me to continue to pursue an extensively chaotic schedule in order to fit everything in. It's funny, the harder I work it seems the luckier I get!..lol. Vitality, fitness, health and living well are the few pleasures that we have been blessed to experience during our existence. Laziness is not an option in order to succeed in any of your dreams, and in order to maintain any success it's crucial to make neccessary lifestyle changes. In the company that I work for one of the partners always says: "No pain, no thought – no thought, no wisdom, wisdom sets you free!".. love that one!
I love continuing my learning to improve each and every day…whether it be psychologically, physically or spiritually. After training for a full decade, I had achieved a decent level of fitness but had aspirations to take it to a greater level. After exploring many avenues, the name "Scott Abel" was brought to my attention. I researched Scott's background and felt that he may be the person I would like to work with. We certainly clicked! I have worked with Scott since the summer of 2003, and continue to enjoy the process. Competing is an entirely new game for me, and I honestly love the challenge. Scott is an incredibly smart guy, really knows his stuff and I am grateful to be able to call him my coach! With Scott's help, my physique changed in such a short period of time and continues to improve day by day. Scott has worked with many elite athletes and continues to create new ones. My intention is that each and every time I step up onto a stage, I have succeeded what I thought not possible with my physique and mindset. My family and friends always say that I am unreasonable, but being unreasonable is what makes people accomplish greatness!
I am always looking forward to new endeavers that come my way. Make each and every day great and greatness will be with you!…Kim xxo
"The soul is not where it lives but where it loves." – Thomas Fuller