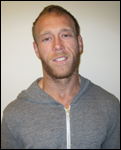 Hi, my name is Josh and I have been a client with Scott for almost 4 years now. Originally, I am from Australia, however I am currently completing an education in nutritional studies in Copenhagen, and hope to continue further education and research within this field.
In my mind, Scott's work bridges the gap with the current nutritional paradox: we now know more than ever about nutrition and exercise… and yet never have we been so overweight and burdened with lifestyle-diseases.
I discovered my passion for training a year or two before I discovered Scott. However I realized quickly that it was more of an obsession than a passion. Honestly it was not until I started with Scott that it started to transform from obsession and into true passion.
In retrospect, my first transformation with Scott was definitely psychological and not physiological – the latter just naturally followed. For the first time I started to enjoy the process and what I was doing right then and there, as opposed to just wishing time away until I had a desired result that I couldn't wait for. Scott helped me see the results were already there if I would accept and acknowledge them. Training went from being a burden to something I really enjoyed as a part of my life – not my whole life. In addition, I could put my whole heart into it knowing that I had such esteemed experience and expertise in my corner. It was a relief not to have to figure things out, but just 'do' what I was supposed to – it worked. The best part being that you know you have 'the best of the best' in your corner – whose main priority will always be your well-being – and you can feel that as much as you will trust the coaching process and expertise. When I think of training, I honestly think of it in terms of 'before' and 'after' my coaching relationship with Scott. Before Scott I most certainly was already headed down a steep and slippery slope. Scott made training fun and also importantly, for the first time it was effective – I made more progress in the first few months with Scott than I had in the previous couple of years. If I was to have regret, it would be that I did not discover Scott's expertise sooner. Scott is firm, but kind — firm in that you will hear what you need to be told as opposed to hearing what you want to be told, and kind in the same way: you will hear what you need to be told as opposed to hearing what you want to be told.
And he's just a nice guy too. Apart from Scott's vast experience-capital, this is another thing that places him ahead of the rest within the field.
With Scott's guidance, you can't help but feel that things are going in the right direction, with each program (both diet and training) complementing the previous, your body is continually and strategically being built up into a metabolic machine, constantly increasing your body's natural potential to mitigate the typical onset of metabolic-downturn that invariably happens with age and typical Western lifestyle – most other dieting approaches do exactly the opposite (phenomenon backed by science and considered a dilemma). This potentiated offset is absolutely essential for anyone who wishes to both stay in shape and drastically decrease risk associated with documented lifestyle-disease (and also have a life at the same time!).
Combined with the physiological expertise utilized for creating optimal and effective training programs, Scott is extremely well informed by many disciplines including psychology, sociology, bio-chemistry (with a focus on nutrition, metabolism and energy systems) and physiology – all of which complement his 40 years of experience within his field of expertise. In my personal experience with Scott, this all runs congruently with his natural intuition as a coach and serves to create an intelligent, empowering and trust-filled coaching relationship.
Regards
Josh