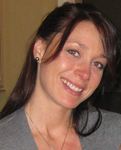 Where do I begin? I came to Scott in January of 2010 wanting to compete in figure and looking for his help in that area (because well let's face it..He's the BEST). Little did I know our journey was literally going to be a rollercoaster ride of life changing events!
VERY long story short, when I came to Scott I was going through a divorce and I was nothing but a tornado of harboured emotions and body image issues. I didn't know my butt from a hole in the ground! Boy, did he have his hands full with me!
I had no idea who I was, what my true happiness was, or how to just let life happen. He recently posted a Blog called "Are you being chased? Then stop running!" That was me. I was running, running from everything in my life that I could not face. My eating disorder that I suffered from years ago, my broken marriage, my body image issues (which, by the way, were HORRENDOUS), LIFE! I was not dealing with anything, just constantly running from it.
It wasn't until I began working with Scott that I realized how much of a mess I really was. There were a couple of low moments when he would hit me with the hard cold facts "This is YOUR life and no one can control you unless you let them, you make it what it is so stop feeling sorry for yourself, and if YOU'RE not happy YOU are the only one who can change it… but I am here to help you through this!" There were many times I cried on his shoulder and many times I picked myself up and had to remind myself of his words: "This is your life and you make it what it is!"
I feel like with Scott I got the best of both worlds. I landed myself the best fitness coach who has brought my body to levels I never thought I would achieve as well as the most amazing life coach who has totally and completely changed my life for the best!!!! Which by the way is far better than any competition could have ever done for me.
Since January 2010 I have found my true happiness! I have married the most amazing man, I have an 8 month old son whom I absolutely adore, and I finally love myself for the first time in WAY too long!!! Scott was with me through all of it: divorce, competition, marriage, pregnancy, childbirth, and post baby. I just want to say THANK YOU, Scott, thank you for helping me to get my life back!! Look forward to many more years working with you!
Jessica Homolya