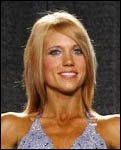 Burned out. Bored. Blah – that describes me and training before Scott Abel. I was tired of doing fitness competitions and spending those prep weeks – not actually getting more fit, but tearing my body down and drifting farther from a lifestyle of wellness and health than when I began. I was tired of devoting multiple hours a day to steady state cardio and depending on caffeine or "fat burners" to make it through the day. I knew there was a better way to enjoy my fitness hobby than feeling horrible and being overdieted and overtrained. After reading some of Scott's articles on the web, I decided to contact him and give it a go. I just wished I would have done it earlier!!
Scott has totally turned my training upside down with his MET programs. I can't deny that I was slightly nervous at first doing no cardio – but to my surprise, I was actually able to gain some muscle and not get fat. My physique progress has thrilled me, but what has excited me more are my outstanding improvements in my athletic ability. Growing up, I was a competitive gymnast for 12 years, but have been completely away from the sport for over a decade. When I began fitness competitions a little over 2 years ago, I had to re learn everything from the most basic of tumbling skills. My upper body, core strength and power were severely lacking. . Over the past several months with Scotts training – I have more strength – definitely more muscle mass than I ever have . I can do many skills better today at 30 years old than I did at my gymnastics peak at 17 – I never thought that was possible.
Scott has really been able to tap into my genetic potential. During my prep for Jr. Nationals , staying healthy and proper recovery was at the fore front. I did absolutely no cardio, nor I did not have to lower my standards and use any substances that that could potentially affect my long term health. At that competition, I won my class and my pro card. Scott played such a tremendous part – it was amazing to share this accomplishment with him.
Desiree Walker