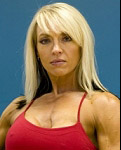 After having kids and letting my body "go," I decided to get back in shape and competed for the first time in Masters Figure in 2007 at the age of 38. I loved the experience of competing; the challenge of getting ready for the stage was right up my alley. However, I saw some things among competitors, females especially, that alarmed me. I decided that if I was going to keep competing—and I really wanted to—I needed to make sure I was guided by someone who knew what he or she was doing and had MY best interests at heart.
While shopping for trainers, I found Scott's web site through word of mouth and started reading his blogs. To put it mildly, I was blown away and moved to tears. Not only did this man possess an encyclopedic knowledge of physique transformation and the competitive world of bodybuilding/figure/fitness, he was educated and demonstrated a remarkable wisdom, self-awareness, and insight into human nature. I had found my Coach.
I started working with Scott in December 2007 and attended his January 2008 MET Workshop. Scott has now seen me through several contest preparations, and I have brought a better, more mature physique to each show. I now have a lifetime pass (automatic entry) to the Canadian Nationals in Masters Figure and I have never felt or looked better. Far from being burnt out or "struggling" with body image or metabolic issues, I am chomping at the bit to continue on this journey.
Scott came into my life at a time when I was turning a corner personally. I wasn't expecting the physical results and personal growth I've achieved in the last couple of years. Through Scott's Coaching, writings, and example, not only have I sculpted a better physique, I have sculpted a better LIFE.