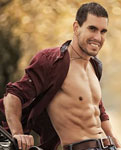 I've been passionate about bodybuilding and fitness for almost 20 years and during that time I've read every book I could find on training and nutrition. However, nothing made more sense than Scott's approach.
It took me a while to move from the "bodybuilder mindset" to the "athlete mindset" that Scott advocates, but once I did, I started to absolutely love MET and I got the results – with zero cardio, and zero supplements.
The things I've learned from Scott's books and DVDS allowed me to get in the best shape of my life, and the cheat diet is the most enjoyable way to stay in peak condition year round.
Corin Gadoiu