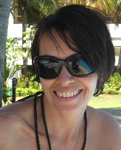 I have been a client of Scotts for over four years. I first started with him after competing in my eighth figure competition. I had been find it a real struggle with not being able to lose the body fat, mainly because I just didn't have the discipline of earlier competitions to stick to the diet – it's like my mind knew how difficult it was mentally and physically and just didn't want to go there. I thought that there must be a better way and that's when I came across Scott. I had read a piece he had written about metabolic damage and how some people just shouldn't compete and also listened to an interview he had done. He was the only coach I'd ever known of who actually had the honesty and integrity to say it how it was – it was really refreshing. So I made contact and his initial assessment was that I needed 3-4 years of intense training to be ready to compete – finally someone said what I actually knew to be true, but instead of being annoyed, I actually felt relieved!
So here we are four years on and I have no desire to compete again. I feel like Scott has given me back the balance my life was missing. My focus has changed from how I look to how I feel. Being healthy and living healthy is much more important to me. I've learnt to work with my body instead of against it and acceptance has been a big part of that. I'll never have the full, round muscles and ripped physique (I don't even want that anymore) but I have great energy and his training programs leave me feeling invigorated and strong. I don't obsess over food anymore but I'm aware of how food makes me feel and what to avoid in order to feel at my best.
I am very thankful for having had found Scott and of having had the benefit of his wisdom.
Christine
Auckland, New Zealand