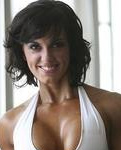 I believe that everyone should have a "home base". A place where they can always return to and be well, and grow from. My home base is health. Eating well and exercising is the foundation which allows me to have success in every other area of my life. It keeps my mind healthy and happy, and it protects me from breaking down when I need to be strong everyday. I guess I could choose to be a yogi and eat diets prescribed by a vegan nutritionist, but weight lifting and pushing hard ignites a rush of energy and power that I have never experienced in any other form of exercise.
I feel lucky to have the opportunity to have a weight training and diet program prescribed by Scott. To have a love for something that not only makes you happy and excited, but is tweaked and streamlined to help you constantly reach new goals and experience new things, is something I will never give up.
After training with a few different trainers at the beginning of my journey into the fitness world, I was recommended to go with Scott by my boyfriend who was born and raised in Scott's hometown of London Ont. He always spoke highly of him, but finally realized I was ready for him after I won my first fitness competition.
It has been a wonderful journey so far, and its just the beginning. I can't wait to see what is to unfold in the future while training with Scott.