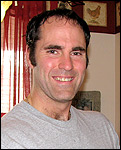 I began my journey with Scott in February of 2006, after searching for a trainer to help me build a better body. Through my search, I described to each potential trainer how I had played sports at high levels growing up; but, upon entering the work world I had begun to put too much emphasis on work and not enough on myself. After 4 years of limited workouts and no cardio I was 255 lbs and obese according to the body fat test of 31%. Not only did Scott respond with the greatest amount of information, he had an emphasis on more than just basic workouts. Scott's response intrigued me so much, I chose him to guide me through a process to meet my goals.
As I began Scott's routine and meal plan I found it very easy to prepare my day – it required some prep time but very little thought on my part. This was essential as my job, working in a Faculty of Health Sciences at a University, keeps me very occupied. To date, I have not missed a scheduled meal or workout and I feel so much more organized. I believe this is due to the fact that the routines keep me motivated and weekly updates with Scott keep me encouraged. This is how I know that I have found more than a trainer – I have a coach.
As for results; within 13 weeks I had dropped 50 lbs. I thought at 205lbs I would be too skinny, but the results were amazing. I actually looked more muscular at this reduced weight. As I continue on with this program I am making small gains monthly; but, more importantly I have increased my energy levels and each day I enter work with a positive attitude.
This new found energy is the true benefit I have gained from Scott! I have learned so much more than a great workout and meal plan – I have learned about looking at qualitative measures rather than quantitative, I have learned about self motivation, and I have learned that each person is an individual and Scott can work with you to determine what is best for you.
Cheers,
Brad