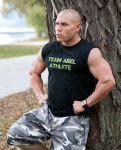 Hey guys!
My name is Anthony Joosse I'm 22 years old and I am a Natural Bodybuilder from Grimsby Ontario Canada and I like to TRAIN!
I have a deep passion for fitness and am very health conscious. At age 11, I saw an infomercial ad on TV which showed a guy with a ripped six pack and that's what inspired me to start working out, It was a real eye opener to me and since that day I have loved the gym atmosphere, I train on a regular basis and keep wanting to improve my physique and my health. These are core aspirations that I always have and always will advance myself in. At a very young age I wanted to be a professional athlete and have been a very dedicated individual throughout my many years by participating in extracurricular sports teams and community sports leagues. I am continuing to be that dedicated individual and It's important for me to push myself to the highest levels of achievement and have the incentive to do better! I have in the past competed in boxing and I have, and am continuing, to compete in the sport of Bodybuilding and I have done well in both sports and have accomplished good results. I strongly believe that what you put into something is what you get out of it. To me it's not about being "the" best it's about being my personal best.
I signed up with Coach Abel back in October 2010 and it's been great!! He's very dedicated in what he does and he takes pride in those who are willing to work for their goals and trust him. It is evident he cares a lot about what he does, every time I e-mail him he gets right back to me quick and always gives me the right information and great advice simply because he is very invested. One of the main things that really stand out to me about coach is his honesty no matter what the circumstance. He has a keen insight on the goals you wish to achieve and he helps you as much as you can help yourself on how to pursue them and the steps to take. I highly recommend Scott Abel to anyone looking to improve their physique. Why I signed up with Coach Abel is simply because I wanted professional assistance in achieving my goal which is gaining my pro card as "Natural Professional Bodybuilder". Since Scott has become my coach I have seen a vast improvement in my Physique, Stamina, and performance not only on the stage but off the stage as well!!!
"Believe in yourself and your dreams maybe closer than you think! "AJ"