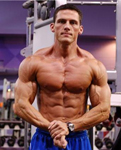 Hi everyone, my name is Allen Cress and I am from Lexington, Kentucky. After graduating from the University of Kentucky with a degree in Kinesiology I started my own training company, Maximum Performance Training, to help others achieve their goals. I have trained everyone from high school to professional athletes, bodybuilders, and regular everyday individuals. I have an undying passion for my job and wake up every morning thankful for being able to make a living doing something I love.
I was always researching and reading endless amounts of information trying to better myself as a trainer and competitive bodybuilder and it wasn't until I found out about Scott that I realized how much I was missing. Scott has been coaching me for the past 10 months and the knowledge and outlook on training and nutrition I have learned from him in this time period have far surpassed anything I have learned over the last 5 years in this business.
My goals for myself are to go as far as I can in Natural Bodybuilding and do my best to become a great coach like Scott. With Scott's guidance along the way I know I will be able to achieve things I once thought were impossible. The results I have already achieved with the combination of the Cycle Diet, Innervation training, and MET hybrid have been amazing and will only get better with time. Scott goes above and beyond my expectations and continues to impress me with his dedication to his clients and his innovative approach to fitness.
Allen