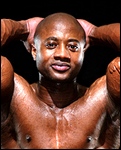 I was born in Barbados, lived in Boston and moved to New York in 1992 to go to law school. I have been working with Scott for about six years now and it has been within this period that I have actually realized what I can achieve. Each year with Scott I have seen improvements beyond what I thought. I currently work as a compliance examiner on Wall Street regulating the industry. I also have a law degree and plan on taking the New York Bar in February 2005.
Scott adds:
Adrian is just a great easy going guy with a love and passion for bodybuilding. Since he's been with me Adrian has made huge improvements and as you can all see he has the perfect tools to do well with todays judging standards going back to classic symmetry. With a little work on presentation he will go as far as he wishes, and he's a lawyer to boot.
What Adrian doesn't mention is that he placed 5th in the heavyweight class at his most recent competition only because he missed his light heavy weight classification by a pound and a half, so he gave up some 20 + pounds to the other heavies and still placed 5th in a class with over 25 guys in it. Great job, and a great client.