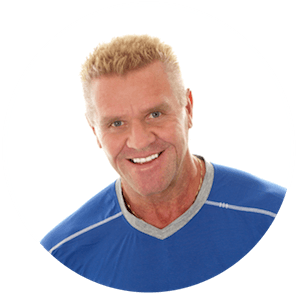 Now in his fourth decade in the fitness industry, Scott Abel has coached over 400 champions in fitness, bodybuilding, figure, and in sports. He's worked with busy men and women to help them improve their bodies and their physiques.
Scott got started in bodybuilding in the early 1980s, while still at University in Canada. (Before then, he'd actually started out in a powerlifting gym, but found little success there.) He won several bodybuilding shows, but found he was more fulfilled dialling in other people — though he still became known in the industry for staying "guest-posing lean" year-round.
Watch a video of Scott Guest-Posing
In 1989 Scott was invited to be an expert at Muscle Camp in California. He's worked as a ghost writer in fitness magazines, coached pro bodybuilders and elite athletes, and served on a number of advisory committees.
He is also a best-selling author on Amazon, hosts a popular fitness podcast, and still works directly with coaching clients who want to lose fat, gain muscle, and balance fitness with their extremely busy lives.
Scott's background, though, is actually in social work. When he works one-on-one with clients, he focuses not just on the physical side, but on the mental and emotional aspects of real success and physique transformation. Scott works with bodybuilders, physique competitors, and everyday people just looking to look better. Whether you need help with food issues, or want Scott to dial you in for a show, Scott adapts his coaching style and programs to suit the client. See his FAQ.
Scott's best clients are those who are interested not "just" in transforming their physique, but those who are interested in making remarkable changes in their physique and in learning the real psychology behind long-term success. See some of Scott's clients here.